My formal introduction will have to wait, for all my uploads are not quite ready yet :(
this band is really really awesome though!!!
THE DYNAMITE BROTHERS- CLAP ALONG WITH THE DYNAMITE BROTHERS
Kinda wish I was talking about these dynamite brothers: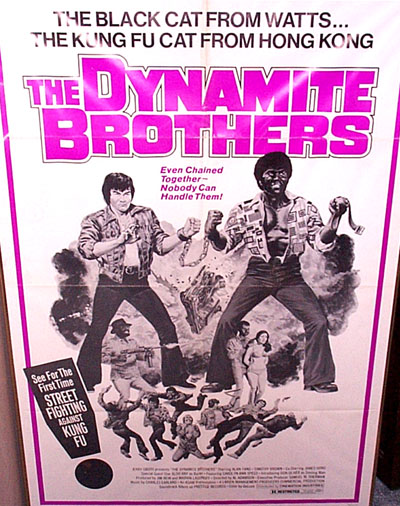 but i somehow doubt the soundtrack to this movie is as awesome as the debut, and so far, the only release, by the rock/soul/blues/funk group The Dynamite Brothers:
Track listing
1. Bus Stop
2. I Can't Win Pt. 2
3. My Lover
4. Sleepwalkin' Again
5. Tellin' Stories
6. Sunday 12am
7. One Way Blues
8. Raw Dawggin' Again
9. Judgement Day
10. Pins In My Doll
11. No You Didn't
12. Crazy
13. Sack O' Locks
http://www.mediafire.com/?713dle34z9d
Now, the influences listed on their
myspace
, are pretty dead on; and I find myself finding this more and more odd how essential myspace has been to the music world because without this myspace, this tiny page of information found through google search [google=internet god], a random, bumbling stranger would have no look into this wonderful wonderful band. This album sounds like Minutemen started making more songs that were like "Corona" but even more awesome, then listened to a load of Archie Bell and The Drells, and
then
hosted a bonfire party, where everyone got high and slowed down, then sped up, then slowed some more, then finally mellowed the hell out. It's a party where you wake up the next day and go: shit, that was an awesome party.
It's also pretty surprising to me that their album can be bought for a measly dollar on
ebay
. For shame!
<3 for Chapel Hill, North Carolina, she who nuture our
soft
, and harvest our
strong
.