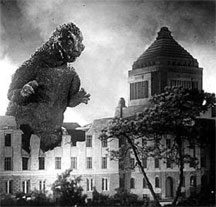 hey, it's someone newww.
I'm gonna be posting alongside Jon, and I know he's got the garagepunkrock thing going on, which I am also all about, but my goal here will be to overlap him in a way, because there are not many reccomendations I can make in that genre that Jon would not already have covered well. I promise
everything I like
is enjoyable (feel free to add me). I'll try to use mediafire everytime, but I run into uploading problems with them a lot. So begins the dawn of THE SUPER BLOG, and although we're not going to overtake and destroy Tokyo, we're still going to have quite a bit of fun while... drinking tea? surfing the interweb? listening to music on 'the iPod'? meh, do whatever. My goal will always be to post something you
most likely
have not heard yet. fair enough?
I know I started out this post with the exicitement and possibility of some great J-rock artists-- but i did not intend to globe-trot quite that far. Instead, here are three great European artists, all mainly pop rock:
PHOENIX- IT'S NEVER BEEN LIKE THAT
It's Never Been Like That
This is actually the most Phoenix has ever leaned toward 'pop rock', you might have heard tracks from their previous releases many a-time in movies "Run Run Run", or maybe "Too Young". A favorite of mine, "Love For Granted" from the album Alphabetical was played recently on HBO's Tell Me You Love Me, my new favorite television show, and whoever selects the
songs
for those episodes is a total genius. But this album was a big step up for a band usually associated with acts like Air and Daft Punk: "In fact, it takes until the fourth song, "Long Distance Call," for anything resembling a dancefloor beat to appear, and when it does it feels like an epilogue to the wonderful "If I Ever Feel Better" off the group's debut record. The band has definitely learned a thing or two through its evolution, placing more of an emphasis on guitar than before (Laurent Brancowitz and Christian Mazzalai sound as if they've been in the woodshed studying the chops of Johnny Marr and the twin-guitar attack of the Strokes' last few records)"- AMG
PLASTISCINES- LP1
I could not find their recent performance at a new york city urban outfitters hosted by Nylon magazine (for free!!), but i did find
this video
, and it's somewhat funny.
don't get too harsh over the lip syncing-- theyre cute, alright? The backstory on this band is that they officially formed after a gig by The Libertines, where three of the chicks met their bassist. They have songs in both French and English, and sing without being snobbish in either regard. the album is definitely a 'grower'.
LP1
THE ROBOCOP KRAUS- THEY THINK THEY ARE THE ROBOCOP KRAUS
They Think They Are The Robocop Kraus
I agree with this description fully, so that's what im gonna go with: "The eclectic post-punk-inspired sound of the Robocop Kraus features Thomas Lang (vocals/guitar), Matthias Wendl (guitar), Tobias Helmlinger (bass), Markus Steckert (organ/keyboards), and Hans Christian Fuss (drums). The indie rock quintet is a cross between the arty, angular structure of Gang of Four and Echo & the Bunnymen and the new-millennium dance wave à la Bloc Party and Art Brut."- AMG
80s style pop punk dance funk to the nth degree. They have been a band for what seems a long time, but I first discovered the Robocop Kraus at a show where they opened for Art Brut and Gil Mantera's Party Dream, which I can honestly admit was the best show I have ever been to in my life. Weeks later I ran across the
"You Don't Have to Shout" music video
On Demand, and recalled the night Thomas Lang dashed into the crowd time and time again to dance with us (he dances exactly the same as he does in that music video), and when he hugged you (i had the pleasure of experiencing this also), you felt really good and happy not just about being there, or seeing that band, but happy about music and loving it. Before I get completely corny over it, grab the album.
And if you have any news of this band from 2007, other than the album they've been attempting to release for three years, call me!
EDIT-- found it! if anyone really likes them, i can up that too